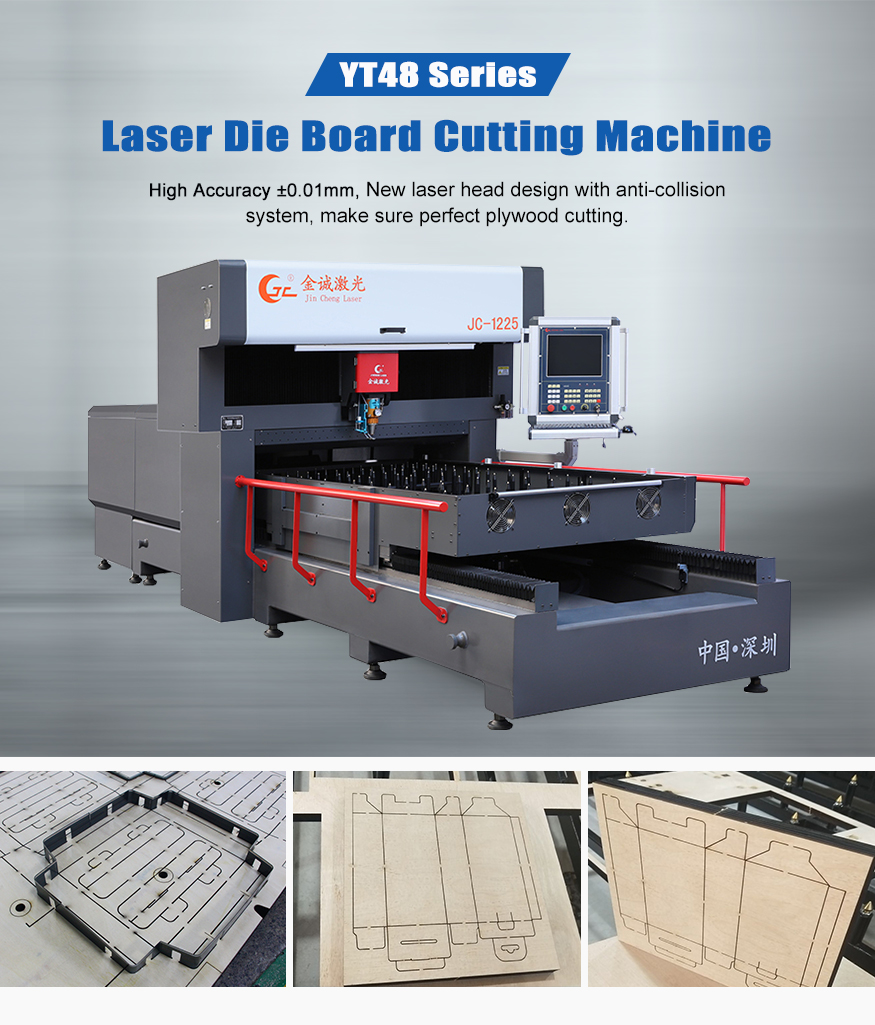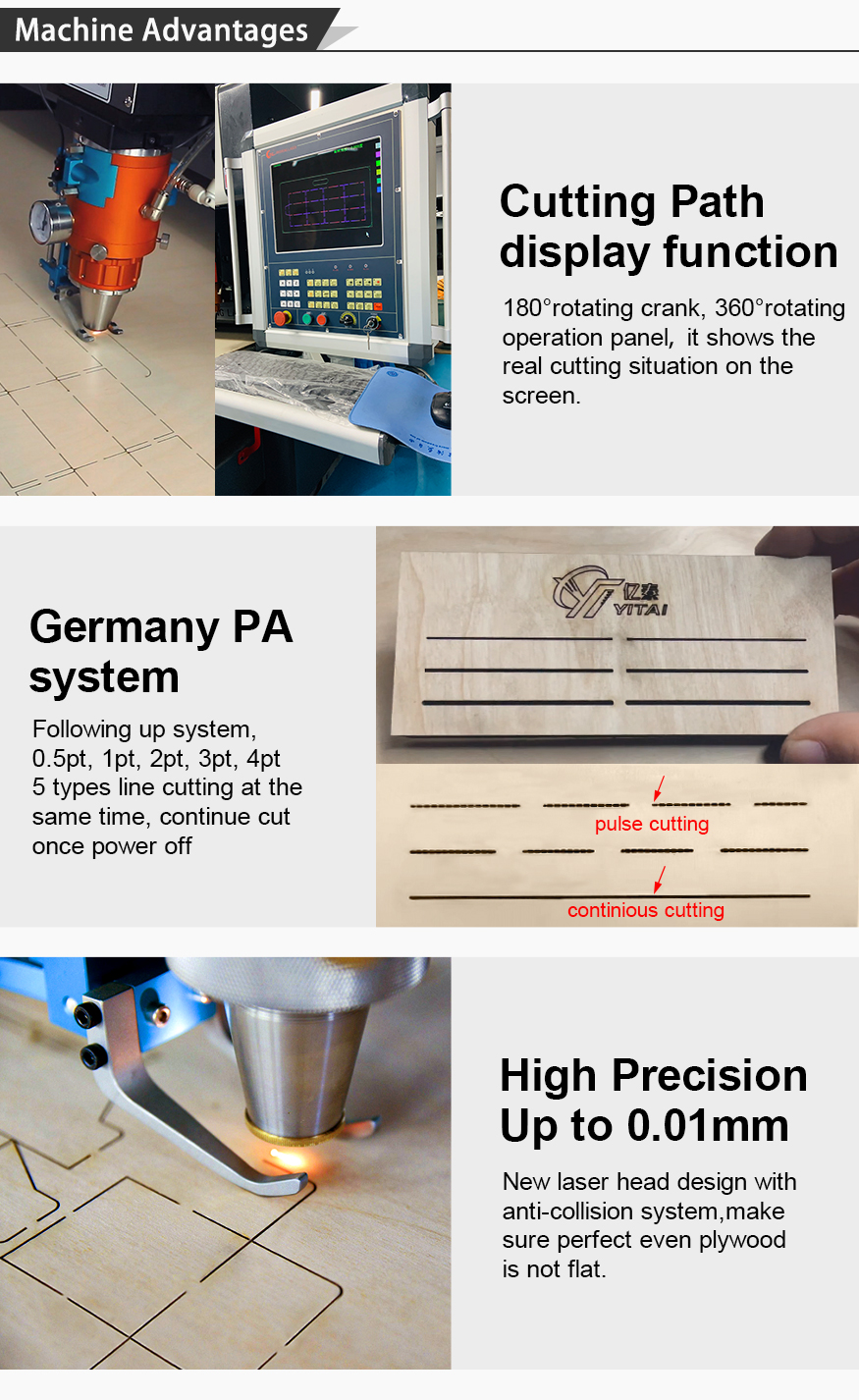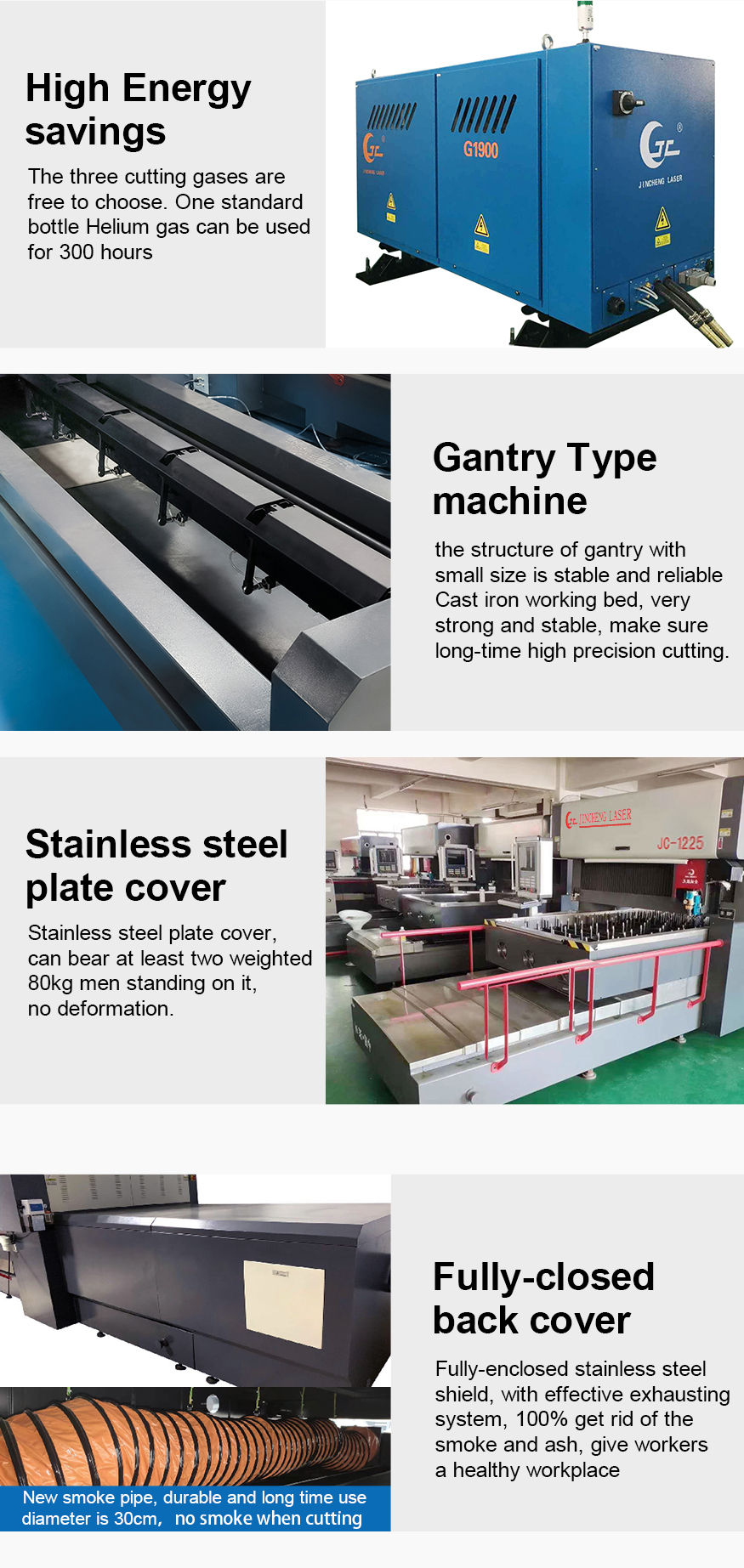 Machine Parameters
Model No.

YT48-Series

Table size

1280*2500mm

Power

2000W

The table moving

Gantry construction

Laser output power

High power axial flow CO2 laser source

X-axis travel-length

1220mm

Y-axis travel-length

2440mm

Cutting speed

130-150m/h

Rapid speed

20m/min

Re-Positioning Precision

≤0.02mm

Cutting width kerf

0.45mm, 0.71mm, 1.05/1.07mm,1.42mm at one time (die board)

Controlling system

Germany PA

Transmission system

Ball screw & Linear guide (TAIWAN)

Driving system

Japan high-precision servo motors

Optical system

US

Moving structure

Gantry

Chiller system

Made in China

Overall dimensions (L x W x H)

4800*2300*2300mm

G. Weight

4200kg

Laser generator gas matched

He, N2, CO2 (99.999%)

Laser cutting thickness

0.1-30mm

Laser cutting thickness

0.1-30mm(plywood, acrylic board, rubber, pvc board, leather, MDF board)

Metal cutting thickness

Carbon steel/Iron steel: 8mm

Stainless steel: 3mm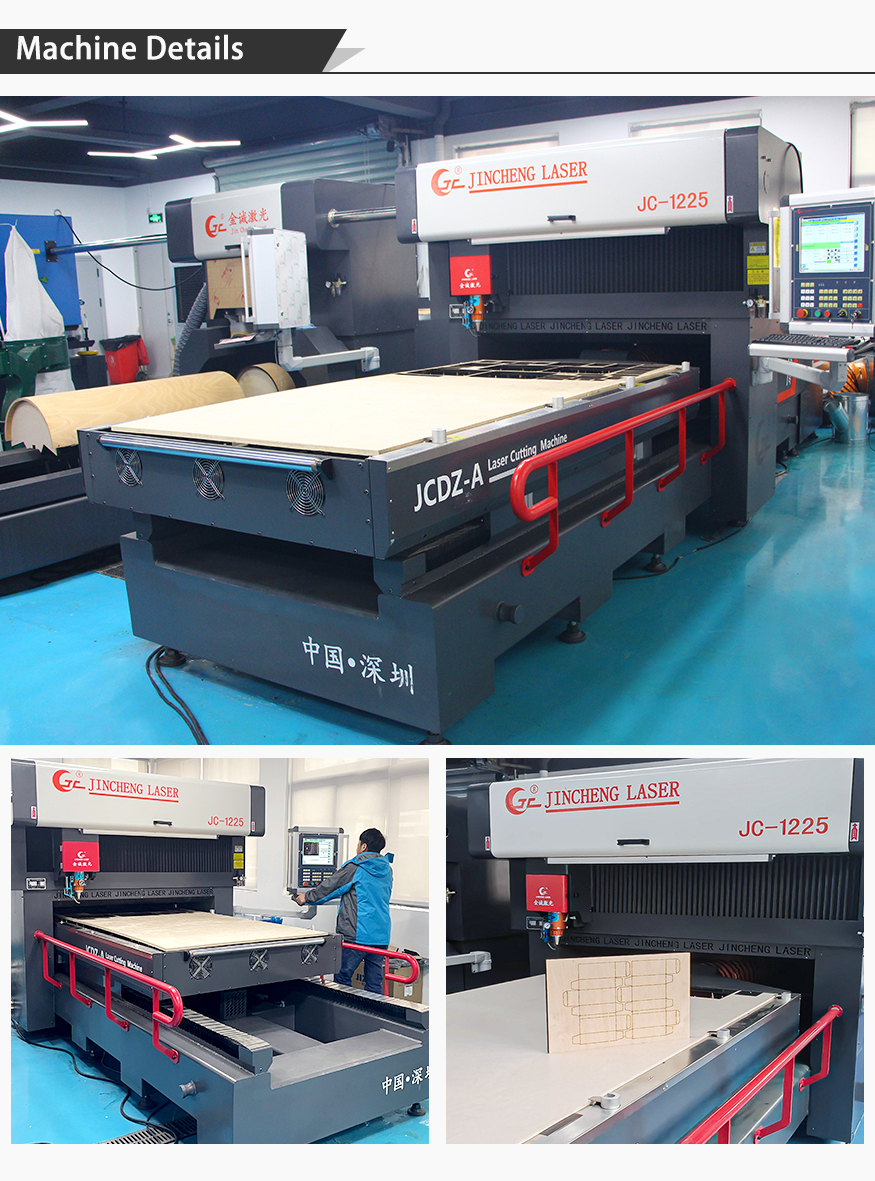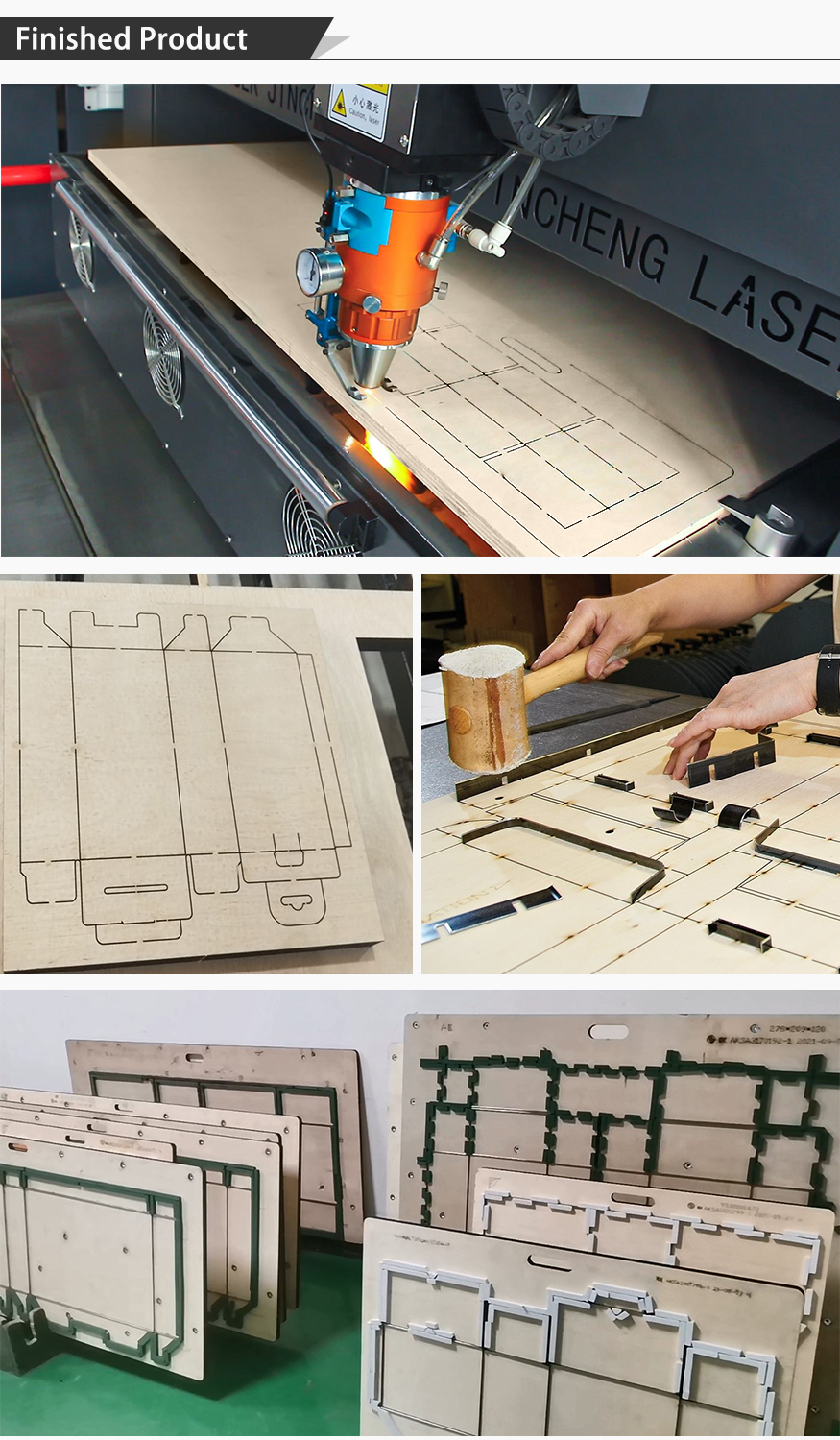 Functions:
1. The machine has the laser cutting proprietary energy control functions, machine operator functions, laser operation function, and expert cutting technology library, remote diagnostics and other functions.

2. Quick marking function: Make laser cutting and marking in one step. Realizing high-efficient and energy-saving flat die making job (Optional)
3. Germany PA system: Auto focus system, 5 types line cut automatically at one time, continue cut once power off, show the path simulation before cutting
4. Pulse cutting function, the cutting kerf is clamping the cutting rule very tight.
5. Anti-collision system to protect the laser head from being damaged when power is suddenly off or wrong operation.
6. Auto focus system to make sure perfect even plywood is not flat.
Features:

1. The structure of gantry with small size is stable and reliable.
2. PA laser dedicated CNC systems, lasers and machine control systems into one.
3. The machine equipped with CAD/CAM dedicated automatic programming software, which is to facilitate the production of graphics, programming and maximize the conservation of raw materials, and special cutting process features.
4. The machine uses fully-enclosed cover, the effect of removing smoke is very good, 100% no smoke left in the workshop during cutting.
5. The machine with enclosed optical path, use positive pressure to remove the dust, which can ensure the lens life.
6. The three cutting gases are free to choose. The entire system uses high pressure gas line design, when cut stainless steel plate.
7. Stainless steel plate cover, can bear at least two weighted 80kg men standing on it, no deformation.
8. Cast iron working bed, very strong and stable, make sure long-time high precision cutting. (optional)