400W/600W Die Board Laser Cutting Machine
YITAI 400W/600W Laser Cutting Machine - Adopt the advanced 400W C02 sealing type water-cooled laser tube combined with precision up to 0.05mm of numerical control mechanical systems. Not only Get The precision of laser die making, But also reduce the costs of laser die making. laser cutting die consumption is extremely low. Can cutting 1mm-25mm wooden board, Plastic board, organic glass, Acrylic board at speed of 30-50m/h. And the machine can cut the gap at 0.45mm, 0.71mm, 1.05mm, 1.07mm and so on at uniform cutting kerf width also up and down seam.
What are the attractive advantages of 400W laser machine?
First of all, superb cost performance. Compared with the 2000W high power laser machine, it is less expensive, occupies a smaller area and is easy to move. with the precision up to 0.02mm of numerical control mechanical systems, it can reach cutting die manufacturing precision and at the same time greatly reduce the production cost. Simple and clear-cutting line adjustment technology. Cutting software can be compatible with AutoCAD. CoreDraw, Adobe Photoshop. Editing path is very easy and convenient.
The second is that low maintenance. With its own laser tube and do not need to add any auxiliary gas to cut, laser cutting die consumption is extremely low. an external power source 220V is ok. And no opening preparation delay. The cutting costs is only 5 RMB/Hour
And all the optical lenses are imported from USA VI Inc. and assembled in a 100% clean room, ensuring high-quality output and stability. The entire machine has undergone IS09002 quality system certification, making it the only CO2 laser manufacturer with this distinction.
YITAI 400W/600W dieboard Laser Cutting Machine not only Get The precision of laser die making, But also reduce the costs of laser die making. Suitable for wooden board laser die cutting and precision electronic laser die making. Upgrade your cutting capabilities with YITAI Laser Cutting Machine. Get yours today and experience the difference! If you are interested, please contact us!
Product Links: https://www.ytdiemaker.com/flat-laser-cutting-machine/400w-600w-die-board-laser-cutting-machine.html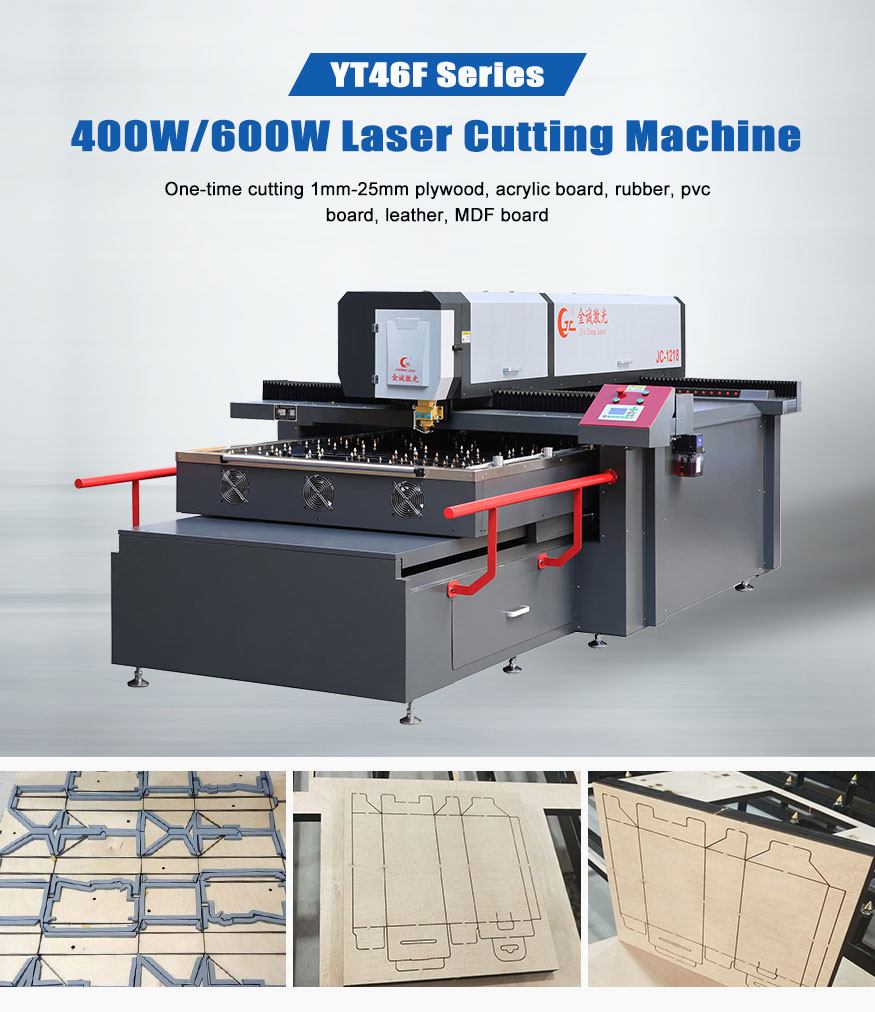 >>> Our Services
1. English-speaking engineer is available for installation and training.
2. 24 hour technical support by email: sales_diemaking@yitaipacking.com
3. English software, installation and related training instructions and videos are available for end-users.
4. With our customer-orientated service support, maintenance and repair costs will be kept low.
5. We supply 1 year warranty and life-Long engineering service.

>>> Please Let Us Know
1.what machine do you need?
2.what materials will be processed? The size and thickness?
3.what is your business scope? Are you end user or distributor?


Any more product information, please contact us ! Customer Needs is my Pursuit !